Welcome to the FAQ for Total War: WARHAMMER III – here you can find links to a lot of our other content about the game, as well as all the vital stats of the game itself.
PLATFORMS & STOREFRONTS
WHAT IS THE TOTAL WAR: WARHAMMER III RELEASE DATE?
Total War: WARHAMMER III will release on February 17, 2022. Pre-order now.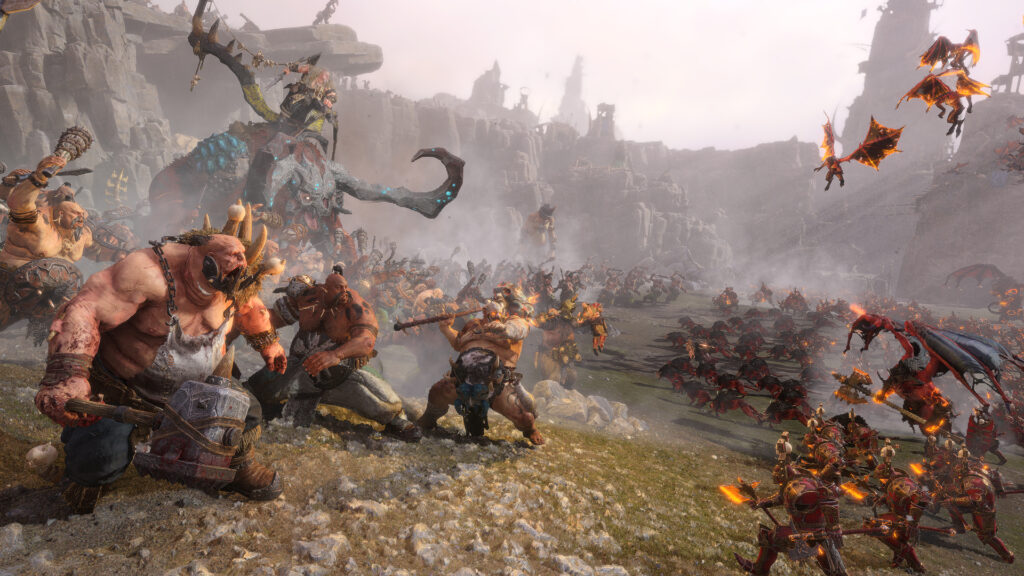 WHICH PLATFORMS WILL TOTAL WAR: WARHAMMER III BE AVAILABLE ON?
Total War: WARHAMMER III will be available on PC and will also be available as close to launch day as possible on macOS and Linux thanks to our friends at Feral Interactive – we'll be confirming exactly when closer to release day.
WHICH STORES WILL TOTAL WAR: WARHAMMER III BE AVAILABLE THROUGH?
You can pick up your copy of Total War: WARHAMMER III on Steam, the Epic Games Store, and the Microsoft Store. You can also purchase your copy directly from Creative Assembly here – the only difference is that more of the price you pay will go directly to the studio.
In addition, Total War: WARHAMMER III will be available as part of Game Pass for PC. See below for more details.
Other digital storefronts are also available – please check SEGA's list of approved partners here.
Physical copies of Total War: WARHAMMER III will also be available in most territories – please check with your preferred local game stockist.
IS THE GAME PASS FOR PC VERSION ANY DIFFERENT?
No, it is the full version of the game. If you own WARHAMMER III through Game Pass for PC, you will also be able to purchase future DLC for it through the Microsoft Store, as well as access Free-LC as it becomes available. For more information on Game Pass for PC, click here.
ARE THERE SPECIAL EDITIONS OF TOTAL WAR: WARHAMMER III?
We have two physical special editions for WARHAMMER III. The Day One Edition, available February 17, comes with a double-sided poster of the WARHAMMER III campaign map and a set of Chaos Icon stickers. The Limited Edition, available on the same day, as comes with an Embossed Metal Case. See them both below.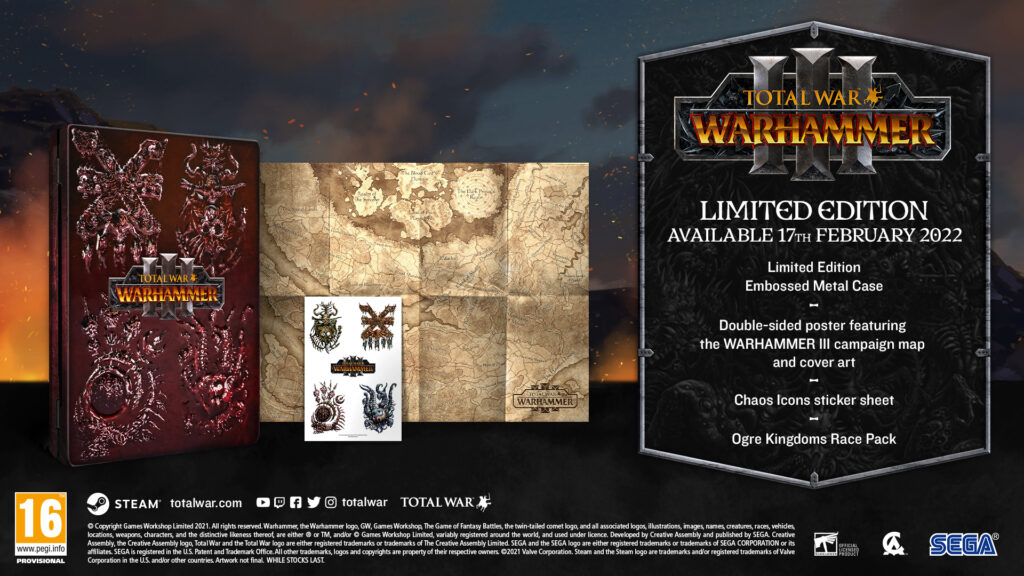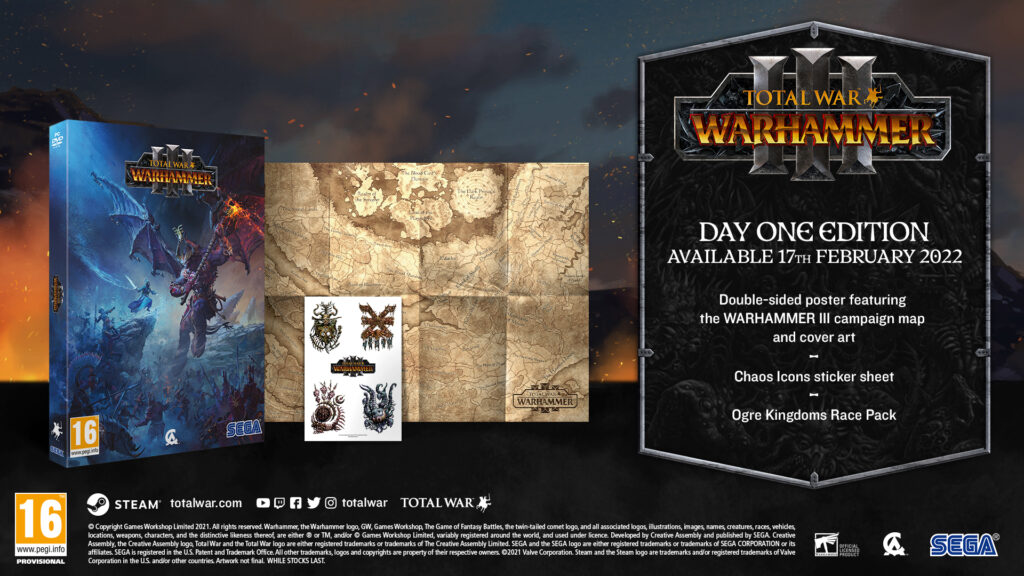 IS THERE A PHYSICAL COLLECTOR'S EDITION OF TOTAL WAR: WARHAMMER III?
Unfortunately not. A combination of the global COVID-19 pandemic and its impact on other industries, as well as our own need to work from home through the final two years of WARHAMMER III's development has resulted in us not having a physical collector's edition for WARHAMMER III. We can only apologise for any frustration and inconvenience this may cause.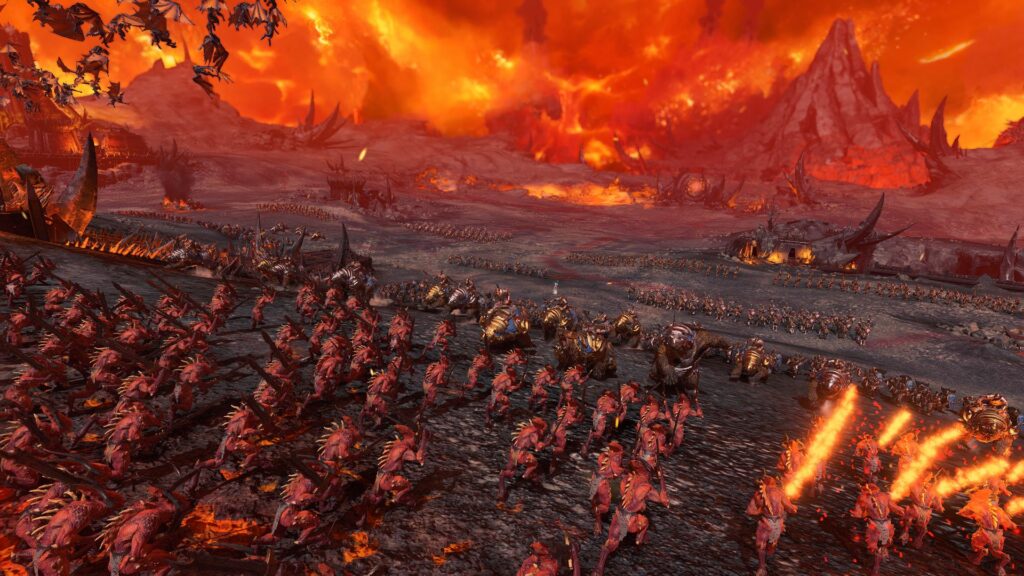 ARE THERE ANY PLANS FOR ANY TOTAL WAR: WARHAMMER III CONTENT TO BE EXCLUSIVE TO A PARTICULAR STORE?
No, all Total War: WARHAMMER III content will be released simultaneously on all storefronts.
WILL TOTAL WAR: WARHAMMER AND TOTAL WAR: WARHAMMER II BE AVAILABLE ON THE EPIC GAMES STORE AND THE WINDOWS STORE IN THE FUTURE?
Yes, we hope to add these games – and their DLC – to both store fronts in the future.
CAN I PURCHASE DLC FOR TOTAL WAR: WARHAMMER GAMES I OWN ON ONE STORE ON ANOTHER (AND VICE VERSA)?
Currently it's not possible to track the different Total War: WARHAMMER content you own across different storefronts. So, for example, if you buy Total War: WARHAMMER on the Epic Games Store, you will also need to buy the DLC on the Epic Games Store in order to use it.
The same applies for claiming the free combined map DLC – you would need to own both Total War: WARHAMMER and Total War: WARHAMMER II on the same store in order to claim it.
WILL TOTAL WAR: WARHAMMER III BE AVAILABLE ON MACOS AND LINUX?
Yes, macOS and Linux versions will be available on Steam, developed and published by Feral Interactive.
WILL TOTAL WAR: WARHAMMER III HAVE CROSS-STORE MULTIPLAYER?
Yes, we intend to support cross-store multiplayer at launch.
WHAT ARE THE SYSTEM REQUIREMENTS FOR WARHAMMER III?
The system requirements for Total War: WARHAMMER III are as follows:
PC Minimum Specifications:
OS: Windows 7 64-bit
Processor: Intel i3/Ryzen 3 series
Memory: 6GB
Graphics: Nvidia GTX 900/AMD RX 400 series | Intel Iris Xe Graphics
DirectX: Version 11
Storage: 120 GB available space
Additional Notes: 8GB Memory if using integrated GPU.
PC Recommended Specifications:
OS: Windows 10 64-bit
CPU: Intel i5/Ryzen 5 series
RAM: 8GB
Graphics: Nvidia GeForce GTX 1660 Ti/AMD RX 5600-XT
DirectX: Version 11 Storage: SSD 120 GB available space
EARLY ADOPTER BONUS
WHAT IS EARLY ADOPTER BONUS CONTENT?
Early Adopter bonus content for Total War: WARHAMMER III is DLC released with the game, which is free to anyone who pre-orders the game or purchases the game within the first week of release. The Early Adopter offer will last until 24th February and after that the DLC will be available to purchase separately on Steam, the Epic Games Store and the Microsoft Store.
AND WHAT IS IT FOR WARHAMMER III?
The Ogre Kingdoms Race Pack is the Early Adopter bonus for Total War: WARHAMMER III. This adds a whole new faction, the Ogre Kingdoms, as playable on the campaign map and includes two Legendary Lords, new Heroes, new Lords and 23 ferocious new units.
TELL ME MORE ABOUT THE OGRE KINGDOMS…
Above is a cool trailer, and there are some more details over on the official website. We also have a detailed Roster Reveal here so you read about the DLC's Legendary Lords and all the units you can hire, including Braingobblers, Toothcrackers and Bonecrushers. If you're wincing reading their names, just wait until you see what they can do in battle! Plus, we have a mechanics overview blog here
WILL TOTAL WAR: WARHAMMER III REVIEWS LAND BEFORE THE GAME IS RELEASED?
Yes – as with all recent Total War titles, our review embargo will drop before launch, allowing you time to decide whether to pre-order.
CONTENT
IS TOTAL WAR: WARHAMMER III GOING TO BE SET DURING THE END TIMES AND FEATURE STUFF FROM AGE OF SIGMAR?
No, as with Total War: WARHAMMER and Total War: WARHAMMER II, Total War: WARHAMMER III is set around the reign of Karl Franz. Our primary source is Warhammer Fantasy Battles 8th Edition, although we have and will continue to use older editions for inspiration where appropriate.
WHAT RACES WILL BE AVAILABLE IN TOTAL WAR: WARHAMMER III AT LAUNCH?
We are excited to be able to confirm that Total War: WARHAMMER III contains a wider selection of individual races than any previous Total War: WARHAMMER core title.
Deep within the realms of Chaos the four Ruinous Powers of Nurgle, Slaanesh, Tzeentch, and Khorne prepare for war and two mighty kingdoms stand sentinel: the stern warriors of Kislev and the vast empire of Grand Cathay. Alongside these legendary rosters, we also welcome the monstrous Daemon Prince and his faction, the Daemons of Chaos, to the fray. Read more about him below!
So far we have revealed full rosters for…
We've also introduced various legendary lords in their own posts:
And here's some campaign mechanics for each faction:
WHO IS THE DAEMON PRINCE?
The Daemon Prince is a brand-new Legendary Lord in the Total War: Warhammer universe! A nightmare made flesh, driven by a mercilessness need for vengeance, he leads the Daemons of Chaos into battle and has access to units from all four of the Chaos Gods. A truly formidible foe, the Daemon Prince also comes with special customisable options, creating a truly unique and personalised gameplay experience for the first time in a Total War game.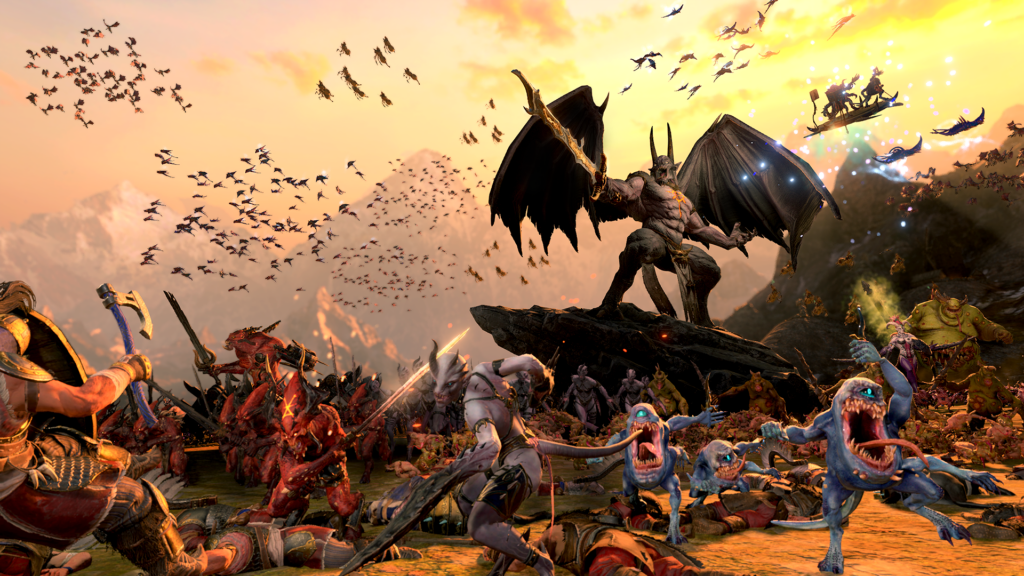 DID YOU SAY CUSTOMISABLE?
We did! Give the Daemon Prince a name that strikes fear in the hearts of his enemies (with a profanity filter of course, to make sure nothing offensive is being used and avoid sparking another war) and customise his design with hundreds of items, creating billions of potential combinations! Each part changes the appearance and stats of your Daemon Prince. For example, using an Armoured Corpulent Tail provides the ability 'Slime Trail' +10 Armour and +3% hit points while a Masquerading Helm provides armour bonuses, new melee attacks and the ability to cast the Slaaneshi spell Phantasmagoria. Do you want the Daemon Prince to be a spellcasting powerhouse? An absolute tank? A fast-moving damage dealer? It's up to you!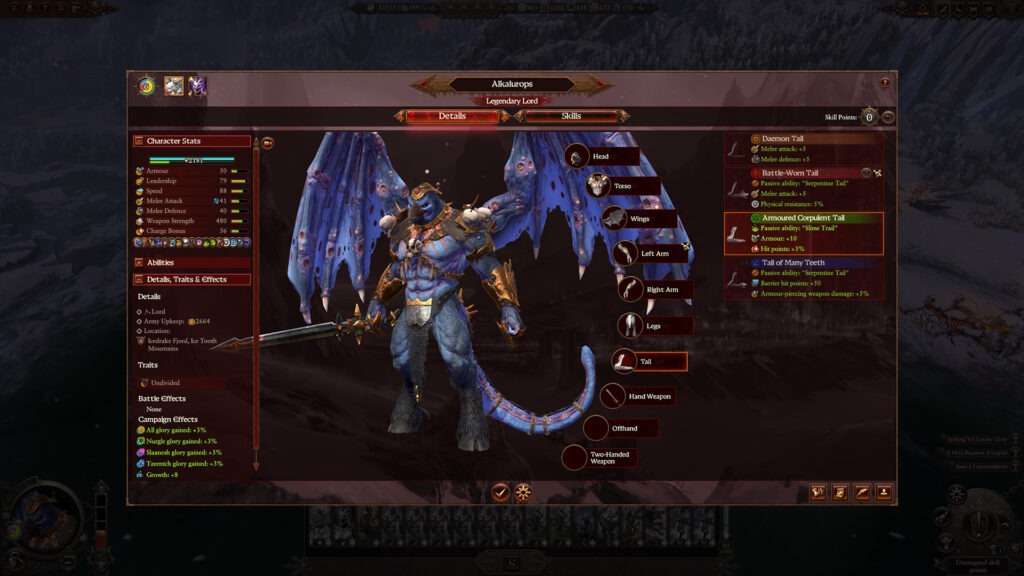 WHAT FACTION DOES THE DAEMON PRINCE LEAD?
The Daemon Prince leads a faction called the Daemons of Chaos and can mix and match his units from any of the Chaos Gods, letting you build terrifying armies. So, if you want to lead an army containing Daemonettes, Beasts of Nurgle and Tzeenchian Flamers, this is the Legendary Lord for you.
IS THERE ANY COOL STUFF I CAN DO WITH HIM?
Yes! In reward for winning battles, conquering settlements and crafting buildings, you earn a resource called Daemonic Glory. This comes in five flavours: one for each of the Chaos Gods, and one for Chaos Undivided. And when you capture a settlement, you'll have the choice to devote it to a specific god, which grants access to recruitment buildings, and further glory gains, for that particular god. As certain thresholds are met, the gods will also grant the Daemon Prince new body parts, armour pieces and weapons which substantially enhance his stat boosts, new abilities and spells.
As more favour is gained with each god, more advanced Daemon units are unlocked for recruitment. So, as your glory levels rise, so does your unit variety in battle. Plus, you can unlock new features from each god. Want to teleport across the battlefield like Tzeentch? Now you can!
Midway along the Glory track you can also dedicate your Daemon Prince to a single Chaos God, which locks you to that god's most advanced body parts and high-tier units. Some of the pieces are part of sets that you can equip to gain bigger bonuses, so if you dedicate yourself to Khorne, for example, you can equip his high-tier set and gain big buffs for Khorne units. Or, you can dedicate yourself fully to Chaos Undivided, which unlocks high-tier units from across all four gods.
The point is, it's time to design your own Daemon Prince! Embellish him with customisations, mould him to your playstyle and unleash him on the battlefield!
CAN I PLAY MY DAEMON PRINCE IN MULTIPLAYER?
Yes, the Daemon Prince can be played in custom battles but not ranked battles.
IS ALL THIS NEW KISLEV AND GRAND CATHAY CONTENT FOR TOTAL WAR: WARHAMMER III LEGIT?
Yes! Games Workshop has expanded and created these factions, and partnered with us. You can find out all about it from them over at Warhammer Community here including some great interviews.
WHOA, THIS ALL LOOKS GREAT – YOU MUST BE NEARLY DONE, RIGHT?
Total War: WARHAMMER III is still in development. Some of what you're seeing is non-final. If you have feedback on anything you're seeing, we'd be happy to read it on the forums, Discord, Twitter, Instagram, or via squig rider.
WILL THERE BE A COMBINED MAP FOR OWNERS OF ALL THREE GAMES?
Yes, though currently our focus is on Total War: WARHAMMER III.
We will release a massive combined map that will be a huge free DLC for owners of all three games, and we'll have more detail later.
Note that you will need to own all three parts of the trilogy through a single store front in order to claim this free DLC. Please see above for details.
WILL THERE BE A BLOOD FOR THE BLOOD GOD PACK FOR TOTAL WAR: WARHAMMER III?
Yes. Much like Blood for the Blood God 2, it will be free for anyone who owns a previous version of the DLC for either WARHAMMER I or II. It will be released soon after launch.
WILL YOU BE CONTINUING TO SUPPORT TOTAL WAR: WARHAMMER II AFTER THE LAUNCH OF TOTAL WAR: WARHAMMER III?
As you might expect, our focus will shift towards supporting Total War: WARHAMMER III following its launch.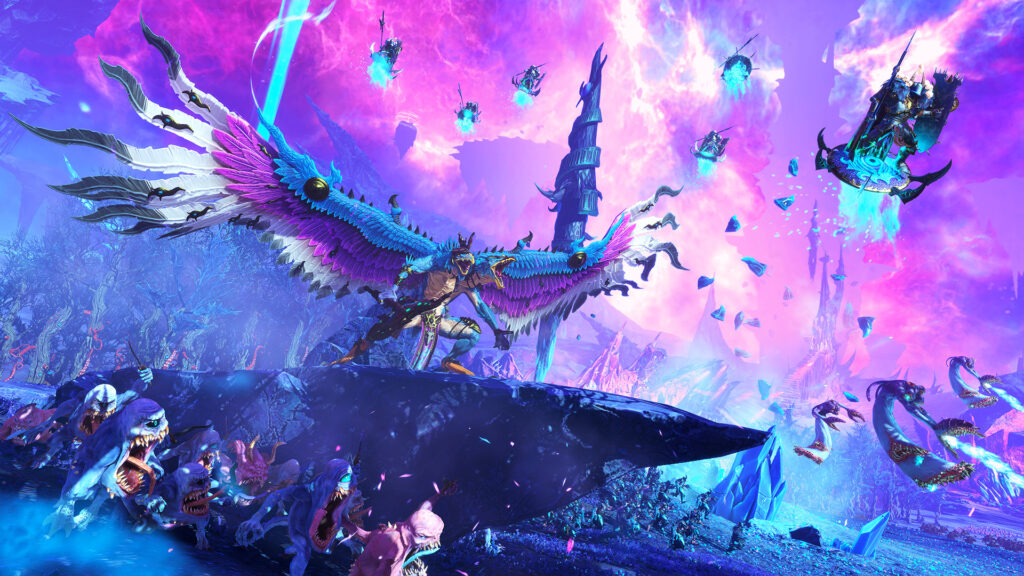 GAMEPLAY
WHAT IS A TOTAL WAR: WARHAMMER III SURVIVAL BATTLE?
As part of Warhammer III's campaign narrative, each faction you play as must embark on a terrifying journey through the four Realms of Chaos. To achieve your aims in each realm, you'll need to overcome the daemonic forces you encounter there in a rare and epic new battle type called a survival battle. Check out this trailer to see it in action.
To be successful here you'll have to carve your way across the map and secure the three capture points whilst fighting off multiple waves of daemons. As you capture parts of the map you will earn battle currency called 'supplies' that allow you to build towers and barricades, recruit new warriors, and upgrade and replenish your units. The waves of daemons will increase in number and difficulty as you progress before the climax where you fight an exalted daemon belonging to that god.
Survival battles are playable in custom battle as well as multiplayer, so bring your friends to help you manage such an epic encounter.
WHAT ARE THE NEW GAME MODES?
Alongside Survival Battles, Total War: WARHAMMER III will also feature Domination Battles, Minor Settlement Battles, and Storm of Chaos battles. The former is a brand-new multiplayer battle mode, whilst the latter sees the return of a Total War favourite that's brimming with new features which differentiate it from its predecessors. You can read more about the battle changes coming in WARHAMMER III in this dedicated post, more on Minor Settlement Battles and our Siege Rework here, and Storm of Chaos and updates to the magic system here.
WILL TOTAL WAR: WARHAMMER III BE LOCALISED IN MY LANGUAGE?
Total War: WARHAMMER III will only have English language audio. However, UI and text localisation will be available in English, French, Italian, German, Spanish, Russian, Polish, Czech, Turkish, Brazilian Portuguese, Korean, and simplified as well as traditional Chinese.
WILL TOTAL WAR: WARHAMMER III HAVE MULTIPLAYER SUPPORT AT LAUNCH?
Yes – here are some details to sink your teeth into:
Multiplayer campaigns now support up to eight players, and all player-turns are taken simultaneously, rather than each waiting for the others to go. Players can choose to make and break alliances with other players as they see fit.
In addition, all players may join any battle which another player initiates and may choose to join the player's army or their opponent's army. The player who initiates the battle can grant control of any units they choose to other player on their team. This makes for fun, inclusive and high-energy battles, where no player is left on the sidelines to spectate.
There are three distinctive campaign scenarios to choose from, offering a range of geographical and playtime scopes:
The Realm of Chaos (Max 8 players)
The full campaign, identical to the single-player version. Each player must establish an empire, traverse the Chaos realms, gather the four Daemon Prince souls, face Be'lakor in a final cataclysmic battle, and decide the fate of Ursun.
Darkness & Disharmony (Max 8 players)
A free-for-all sandbox campaign focused on a Daemonic invasion of Grand Cathay, where players fight for control of key settlements. Players can join in as Grand Cathay, Ogre Kingdoms or one of the four Chaos Daemon races (Kislev and the Daemon Prince do not feature).
Something Rotten in Kislev (Max 3 players)
A three-player co-operative campaign designed to be completed in a single session. This is based in a compact campaign map across the territories of Kislev.
WARHAMMER III offers a range of multiplayer battle scenarios for 2-8 players, including some completely new to Total War.
Domination Mode is a new competitive area-control mode where players must defeat enemy forces, capture objectives and dial in reinforcements across a series of specifically designed arena maps.
Survival battles allow players to team up and relive the survival battles from WARHAMMER III's Realm of Chaos campaign. Each survival scenario has three difficulty levels to choose from.
Minor Settlement and Siege Battles allow players to attack and defend across the vast range of new siege and minor settlement maps created for WARHAMMER III.
In addition, players can also set up multiplayer battles for the following battle types:
Land battles
Free-for-all battles
Ambush battles
Chokepoint battles
Subterranean battles
Ranked matchmaking changes
Some key improvements have been made to our ranked battles system. These are:
Your opponent's race pick is hidden until both players have locked in their race picks
Race picks are then revealed to both players, and armies can then be built
We've also altered our Elo rating system to use a more traditional calculation of player win-probability, similar to chess.
WILL TOTAL WAR: WARHAMMER III SUPPORT MODS AT LAUNCH?
We'll have more details about this closer to launch.