Please refer to the instructions below on how you can contact SEGA Customer Support with additional instructions on how to view (and respond) to Support Requests through our Support Website (SEGA Customer Support Account is required):
HOW TO CONTACT SEGA CUSTOMER SUPPORT
To contact SEGA Customer Support (Account/Registration not required) click on Submit a Request and complete the submission web-form (please include as much information where possible e.g screenshot of error message); SEGA Customer Support will aim to respond to your Support Request as soon as possible by email.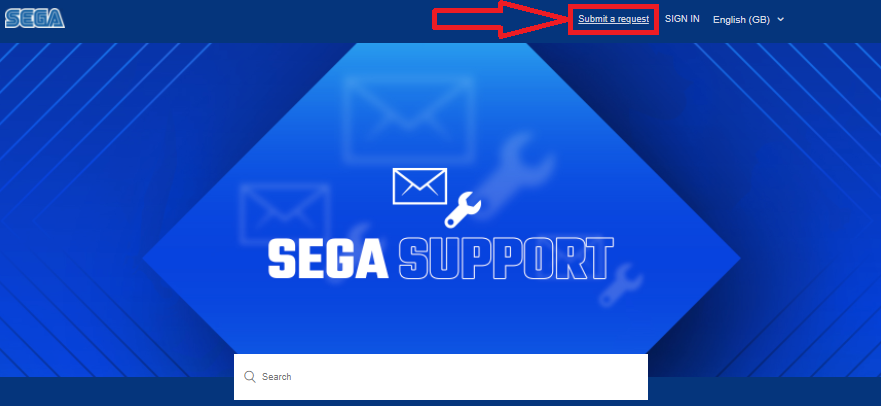 HOW TO CREATE A SEGA CUSTOMER SUPPORT ACCOUNT
Why create an Account? With a SEGA Customer Support Account you will be able to view and respond to your Support Requests directly through our Support Website as referenced HERE.
Click on Title Header(s) below to expand/collapse:
1. Click on Sign-In (Top Right-hand Corner)

2. Click on Sign up

3. Fill Your full name & Your email Sections; Click on Sign Up

4. A Verification Email is sent to the supplied email address

5. Click on the web-link contained within the email

6. Create a Password; Click on Set Password

7. Upon Account Creation, you will be directed to the Home Page of Customer Support

8. To Submit a Request; Click on Submit a request:

1. Click on Sign In (Top Right-hand Corner); Click on Get a Password

2. Enter your email address; click Submit

3. An email with a link to create a password will be sent:

4. Click on the web-link contained within the email

5. Create a Password

6. Upon Account Creation, you will be directed to the Home Page of Customer Support

7. To Submit a Request; Click on Submit a request

1. When signed in, click on your account name (top-right hand corner)

2. Click on My Activities

3. Click on the Subject Title of your Submitted Request(s)

4. Enter Message/Attachments; Click on Submit

If you are unable to sign into your account, please refer to Section (B) within this Article on how to reset your Account password.

If you are signed into your account, please follow the instructions below on how to change your Account Password.

For all other Account related enquiries, please Submit a Request (Account not required).

1. Click on your User Name; Click Change Password

2. Enter a Password; Click Change Password