SYNC GAME FILES ON CONSOLE
You can start a save on one device and sync it over to another all thanks to
Xbox Play Anywhere
. Syncing your progress enables you to play Football Manager Console on the go via Xbox Cloud Gaming.

Please do keep in mind if you wish to sync from PC to Xbox One that you can only do so with 5 playable nations selected. Xbox Series X|S & PC supports up to 10 playable nations. Whereas Xbox One only supports 5 playable nations.
You can start a save on one device and sync it over to another all thanks to
PS Remote Play
. Syncing your progress enables you to play Football Manager Console on the go via PS Remote Play.
---
CLEAR YOUR GAME CACHE
You can clear your game cache by following the steps below.
Whilst the game is loaded press your 'Xbox button'.
Navigate to 'Football Manager Console' and press your 'menu button'.
Select 'Manage game and add-ons'.
Select 'Saved Data'.
Delete All.
This will clear your game cache. This will not permanently delete your save files as they are saved on the cloud.
---
USE PS REMOTE PLAY
Any Apple deice running iOS 13 or later can play PS Remote Play games using DUALSHOCK 4 wireless controller via Bluetooth or through on-screen controls.
Devices running iOS 14.5 or later can play with a DualSense wireless controller via Bluetooth
Android 8.0 or later can play.
Devices running Android 10 or higher can connect to a DUALSHOCK 4 wireless controller via Bluetooth.
DualSense wireless controller is supported on Android devices running Android 12 or later.
---
CHANGE LANGUAGE
---
ENABLE COLOR BLIND MODE
---
PLAYABLE NATIONS AND STARTING A SAVE
You can run multiple Nations per save within Football Manager Console. To do so, go to the start screen and click 'Start a new game' -> 'Career' -> 'Advanced Setup' -> 'Add Nation' to add additional leagues.
The number of nations you are allowed in any game would depend on your console.
PS5, Xbox Series X/S: 10 | Xbox One: 5
To do so, go to the start screen and click '
Start a New Game' -> 'Pick Team' -> 'Choose a Game Mode' -> 'Advanced Setup' -> 'Add Nations'
.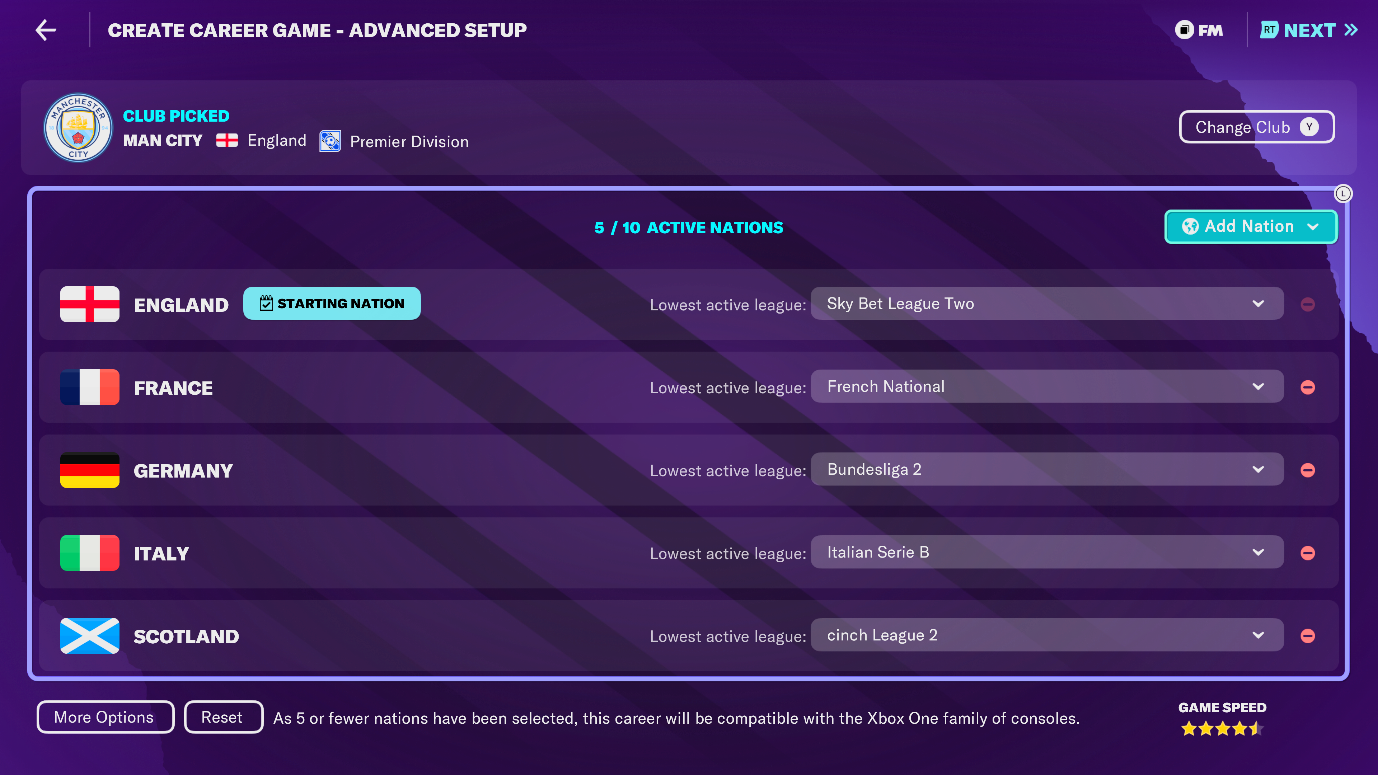 Regions
Africa
South Africa: South African Premier Soccer League, South African National First Division Championship
Asia
Australia: Isuzu UTE A-League
China: Chinese Super League, Chinese National First Division
Hong Kong (China PR): Hong Kong Premier 
India: Indian National Football League
Indonesia: Indonesian League One, Indonesian League Two
Japan: Meiji Yasuda Insurance Ltd J1 League, Meiji Yasuda Insurance Ltd J2 League, Meiji Yasuda Insurance Ltd J3 League
Malaysia: Malaysian Super League, Malaysian Division Three
Singapore: Singaporean Premier League
South Korea: Hana 1Q K LEAGUE 1, Hana 1Q K LEAGUE 2
Europe
Austria: Austrian Premier Division, Austrian First Division, 
Belarus: Belarusian Highest League, Belarusian First League
Belgium: Jupiler Pro League, Belgian Challenger Pro League, Belgian First National Division
Bulgaria: Bulgarian First League, Bulgarian Second League 
Croatia: Croatian First League, Croatian Second League 
Czech Republic: Czech First Division, Czech Second Division
Denmark: 3F Superliga, NordicBet Liga, 2. Division, 3, Division
England: English Premier Division, Sky Bet Championship, Sky Bet League One, Sky Bet League Two, Vanarama National League, Vanarama Nation League North/South
Finland: Finnish Premier League, First Division
France: Ligue 1 Uber Eats, Ligue 2 BKT, French National
Germany: Bundesliga, Bundesliga 2, 3. Liga
Gibraltar: Gib Football League
Greece: Greek Super League 1, Greek Super League 2
Hungary: Hungarian Division I, Hungarian Division II
Iceland: Icelandic Premier Division, Icelandic First Division
Ireland: Irish Premier Division, Irish First Division
Israel: Israeli Premier League, Israeli National League
Italy: Italian Serie A, Italian Serie B, Italian Serie C
Latvia: Optibet Virsliga 
Netherlands: Eredivisie, Keuken Kampioen Divisie
N.Ireland: NIFL Premiership, NIFL Championship, NIFL Premier Intermediate League
Norway: Norwegian Premier Division, Norwegian First Division, Norwegian Second Division
Poland: PKO Bank Polski Ekstraklasa, Polish First Division
Portugal: Portuguese Premier League, Portuguese Second League, Portuguese Third Division, Portugal Championship
Romania: Romanian First League, Romanian Second League
Russia: Russian Premier League, Russian First Division
Scotland: cinch Premiership, cinch Championship, cinch League 1, cinch League 2
Serbia: Serbian SuperLeague, Serbian First League
Slovakia: Slovak First Division, Slovak Second Division
Slovenia: Slovenian First League, Slovenian Second League
Spain: Spanish First Division, Spanish Second Division, Spanish Federation First Division, Spanish Federation Second Division
Sweden: Swedish Premier Division, Swedish First Division Elite, Swedish First Division, Swedish Second Division
Switzerland: Swiss Super League, Swiss Challenge League
Turkey: Turkish Super League, Turkish 1. League, Turkish 2. League
Ukraine: Ukrainian Premier League, Ukrainian First League
Wales: JD Cymru Premier, JD Cymru North/South
North America:
Canada: Canadian Premier League
Mexico: Mexican First Division, Mexican Expansion League
U.S.A: Major League Soccer
South America
Argentina: Argentine Premier Division, Argentine Second Division
Brazil: Brazilian National First Division, Brazilian National Second Division, Brazilian National Third Division 
Chile: Chilean First Division, Chilean First Division B
Colombia: Colombian First Division, Colombian Second Division
Peru: Peruvian First Division
Uruguay: Uruguayan First Division, Uruguayan Second Professional Division
It isn't possible to add or remove nations and leagues after a game has been created.
---
START AN ONLINE GAME
Once you've loaded the game toggle from Single Player to Online.
You have three different game modes that you can play with your friends: Online Career, Fantasy Draft and Versus Mode.
---
JOIN AND MODERATE ONLINE SESSIONS
We recommend you create a server password for all your online career saves.
Navigate to 'preferences'.
Select the 'online' tab.
Use the drop-down under 'allow users to join your game' to edit your online session preferences.
If you do need to join, ban or unban a player:
Toggle from Single Player to Online.
Click join game for either Online Career, Fantasy Draft or Versus Mode.
To narrow down the game you want to join, please ask your friend for the server name and enter that in the server name field and press search.
When you've selected the game, you want to join it will provide you with some info regarding the Online Career.
You may then be required to enter a password.
Ensure your save file is loaded.
Navigate to the 'FM' menu.
Select 'Game Status'.
Enable mouse emulation.
Press 'right stick' on the profile you wish you ban.
Ban user.
Ensure your save file is loaded.
Navigate to 'preferences'.
Select 'online game preferences'.
You will see a list of banned players and you will be presented with the option to unban them from the online career save.
---
OTHER INFO
Cloud saves are not limited by Football Manager but the cloud has a 1GB limit.
Keyboard and mouse support is available on Football Manager Console, likewise you can use your controller on the Xbox PC version.
You can enable mouse simulation on Console by pressing the left stick on your controller, this can be reverted by pressing the left stick again.
*Autosaves will always overwrite the current save slot. You can turn off autosaving or change the duration between autosaves in the preferences menu.
---
STILL STUCK?
We have several places you can go to access help with all aspects of Football Manager.
You can access the game Manual by selecting 'Settings' and then 'Manual'.
You can access

 

The Byline, which is our home for original Football Manager content including hints, tips, features, and interviews.
You can access our

 

community forum, which has an abundance of content from technical support, general game discussions, tactics & training, specific playing styles, and many more.

If you have any suggestions, please feel free to submit them within the

feature request section

 on our forums.